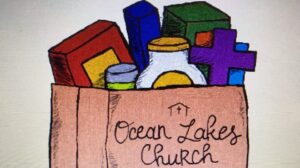 ---
Mission
Our mission is to help eliminate hunger in our community and direct those in need of additional supportive resources. Love and respect are shown for all who come for assistance.
 Feed the hungry, and help those in trouble. Then your light will shine out from darkness, and the darkness around you will be as bright as noon.  Isaiah 58:10
---
Take Action Now
---
Volunteer

Volunteers are the foundation of our mission. Volunteers are needed throughout the week and on weekends. Let us know when you are available, and we will show you how you can make a difference!
---
Donate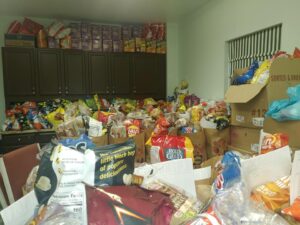 We are supported by the caring individuals and businesses of our community through product and financial donations. Please find out how below in the For More Information box if you would like to join in the effort.
---
Pray for Our Ministry
Nothing is accomplished without the help of God. We ask that you support our ministry in whatever way you are able, but most of all, we ask that you keep our ministry in your prayers for continued success through the hands of our loving Father.
---
Pray for Those In Need

Those we support are here for humanitarian aid, but their needs go beyond the basics. We ask that you join with us and remember them always in prayer.
 Never stop praying, especially for others. Ephesians 6:18
---
For More Information
 godspantry2019@yahoo.com
https://www.facebook.com/OceanLakesChurchGodsPantry/
Phone # (757)619-4086
---
Donate Now
Use the Purple GIVE Button  located on the right sidebar
Click God's Pantry in the dropdown box
OR
Mail check or money order to:
Ocean Lakes Church* 1200 Dam Neck Road* Virginia Beach, VA 23454
Please Note God's Pantry in the Memo of Check for Proper Distribution of Funds
*******************************
Thank You for your faithfulness to God and His people.
oceanlakeschurch@gmail.com / 1200 Dam Neck Road*Virginia Beach, VA 23454 / 757-717-3729