God's Perfect Timing
In only six weeks of preparation, 55,000 people had registered to participate in the Washington Prayer March 2020, hosted by evangelist Franklin Graham, president, and CEO of the Billy Graham Evangelistic Association and Samaritan's Purse, an international Christian relief organization.  However, estimates onsite soared between 80,000-100,00 as many people showed up without registering.  3.8 million watched online from 57 countries. Occurring at the same time, another Christian event, The Return, was being hosted by prophetic author and Messianic Jewish pastor Jonathan Cahn. Both events had the same goal in mind; to heal our nation through prayer and ask God to turn our country back to Him.
Franklin stated that when he felt led by the Holy Spirit to host the Prayer March, he was unaware of Jonathan Cahn's event already scheduled. After speaking to each other, they agreed to continue on the same day as Jonathan had been led by the Spirit to plan his event for September 26th, nearing the Jewish holiday Yom Kippur; Day of Atonement.
And we know that for those who love God all things work together for good,  for those who are called according to His purpose. Romans 8:28 ESV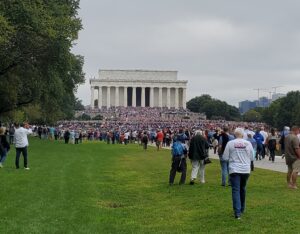 The Lincoln Memorial began filling early morning as tens of thousands anticipated the arrival of Franklin Graham and the start of the Washington Prayer March 2020. Vice President Mike Pence and his wife Karen Pence also spoke at the opening, and Michael W. Smith performed.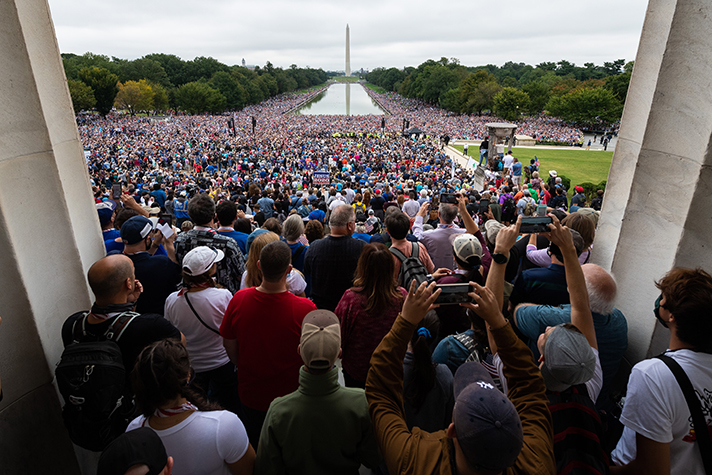 This photo depicts the start of the Washington Prayer March 2020, taken from inside the Lincoln Memorial. Outside is a sea of Christian believers who came to call out to God on behalf of our nation for healing.
"For where two or three have gathered together in My name, I am there in their midst." Matthew 18:20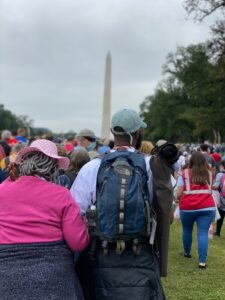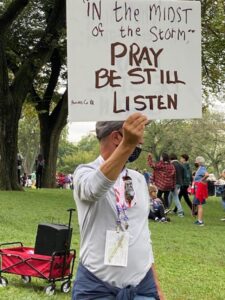 Thus the Lord was moved by prayer for the land.  2 Samuel 24:25 NASB.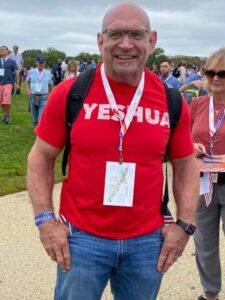 This gentleman had a different color shirt for each day of the week.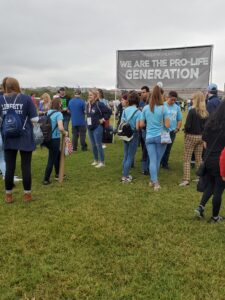 The Students for Life organization made a strong pro-life statement with a mission to educate its generation on the truth about abortion and creating tangible and supportive services.
Volunteers Help Make It Happen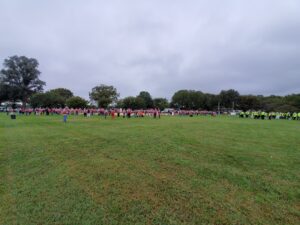 Volunteers were on site four hours in advance of the event to receive instructions and prayer. The volunteers in yellow vests (right side of photo) are Samaritan's Purse Disaster Relief Rapid Response Team pastors. They were onsite for prayer and to help with crowd control.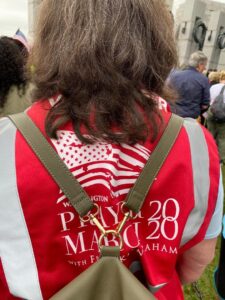 500 Christians signed up to serve as volunteers for the Washington Prayer March. Responsibilities included handing out face masks, lanyards, and American & Christian flags. Volunteers were also available to answer questions and give directions.  All volunteers were required to go through an online interview and give their testimony before selection to participate.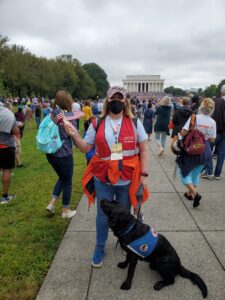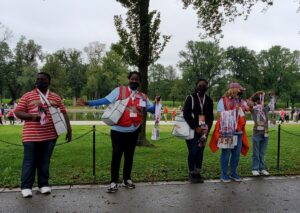 Even the children who came with their parents had a strong willingness to join in and help with the volunteer mission!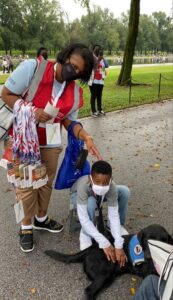 9-year old Michael's favorite job was petting service-dog-in-training Bragg.
Prayer Can Move The Lord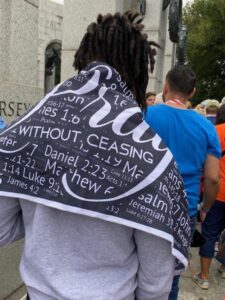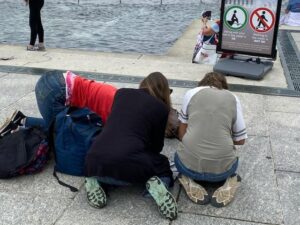 Rejoice always,  pray without ceasing,  give thanks in all circumstances; for this is the will of God in Christ Jesus for you.  1 Thessalonians 5:16-18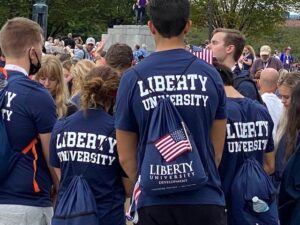 Liberty University brought over 2,200 students on 44 buses to the Washington Prayer March.  They were visible throughout the day in small and large groups interceding in prayer for our country.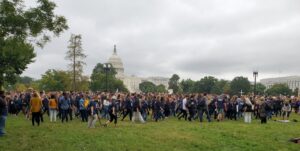 Liberty University students gather at the United States Capitol for the final prayer, focusing on our Congress and other leaders at the national, state, and local levels, the Supreme Court, and judges across the nation.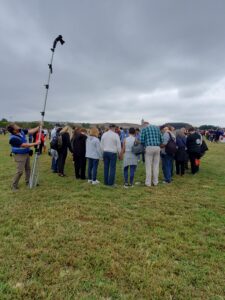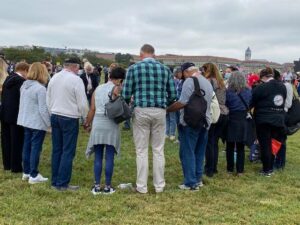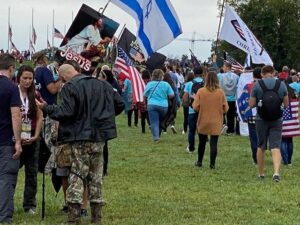 Groups of people would come together to pray in any area along the National Mall. Flags were carried throughout the march proudly professing the Christian faith and support for our country and Israel.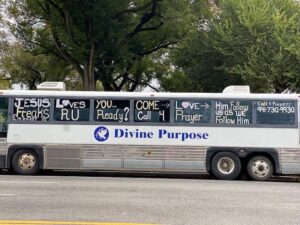 Approximately 157 church buses from all over the country made the trip to Washington to pray for our Nation on Saturday, September 26th, during the Washington Prayer  March 2020. This bus, Jesus Freaks Embassy,  traveled all the way from Florida!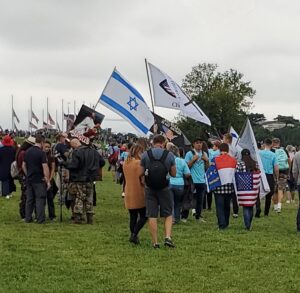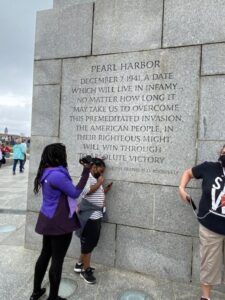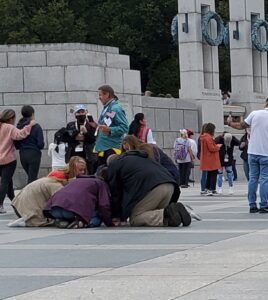 Photos were taken at the second stop, WWII Memorial. Prayer focus: U.S. military, police, other law enforcement officers and their families–and the security and peace for the nation.



A new commandment I give to you, that you love one another: just as I have loved you, you also are to love one another.        John 13:34
oceanlakeschurch@gmail.com / 1200 Dam Neck Road*Virginia Beach, VA 23454 / 757-717-3729